The JEM Plumbing, Inc. Crew
Meet JEM Plumbing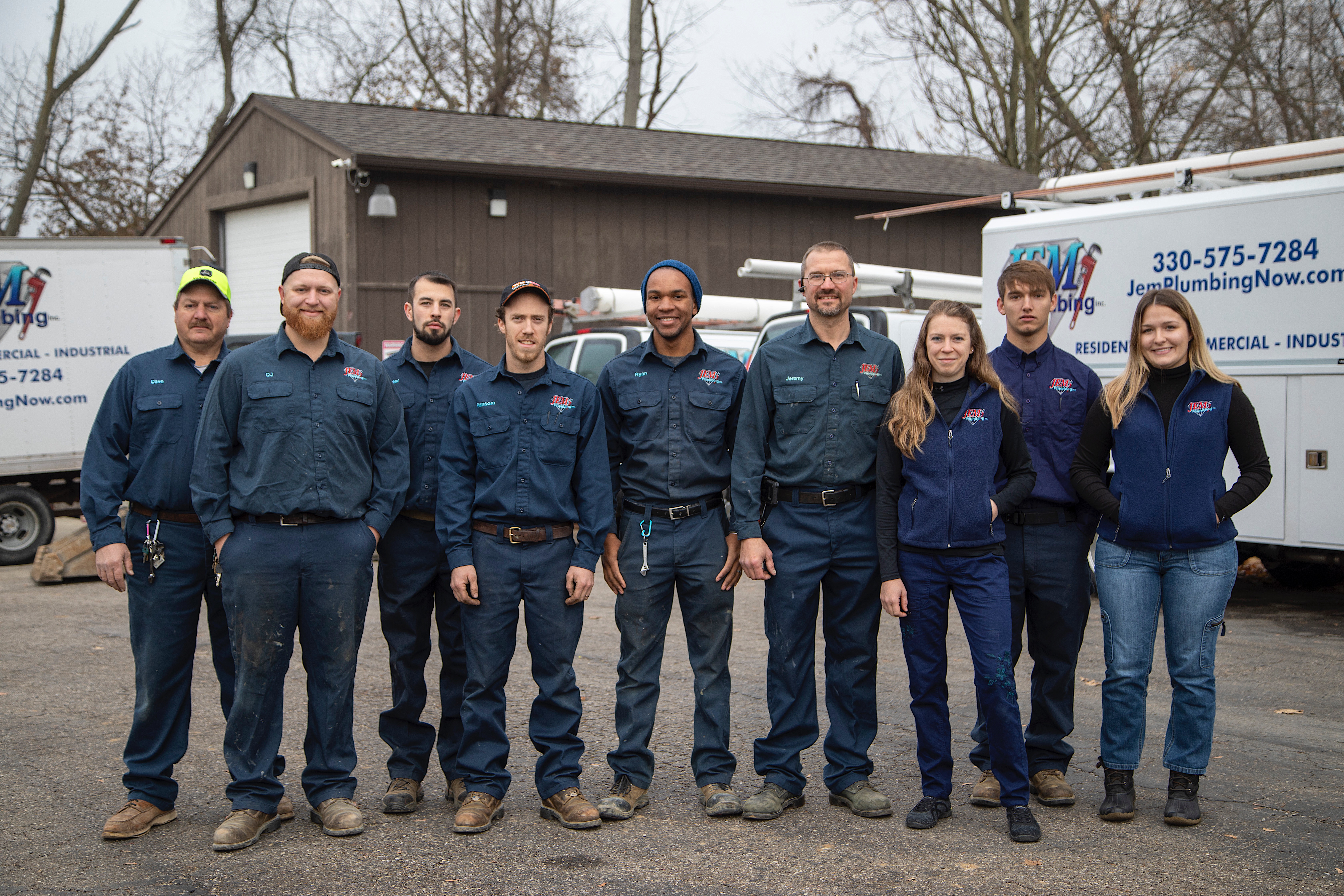 The JEM Plumbing, Inc. Crew
At JEM Plumbing, Inc. we put a high emphasis on training, continually educating and staying on top of current products to take our work to that next level. We take pride in our work and craftmanship of the Plumbing trade. Striving to put our customers first, we try to do the utmost to be there for you, in whatever your Plumbing situation might be.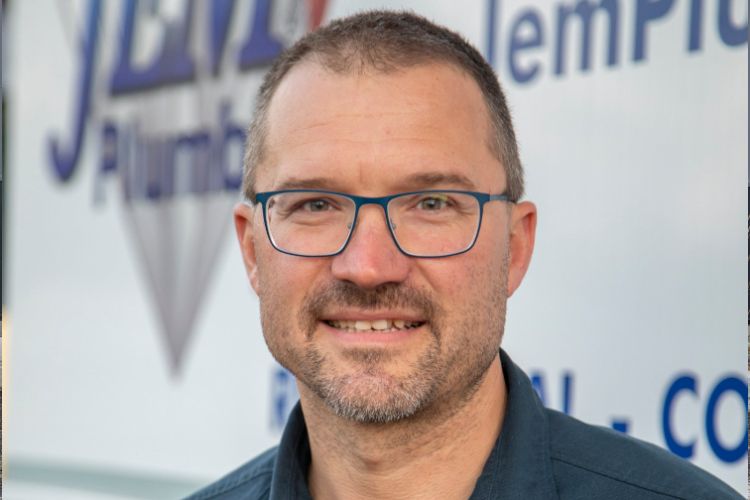 Jeremy Mantel - Owner/President
Jeremy combines his State Licensing and State Certifications with over 20+ years of on the job experience in the Plumbing and Water Industry. Jeremy enjoys performing the work of many different trades with the life goal of mastering as many as he can. He enjoys overcoming the challenges of many construction obstacles and solving the different puzzles in the Trades that come along the way.
Ohio Licensed Plumber #46971
Ohio Hydronic License
Ohio Licensed Welder
Former Ohio EPA Class A Water System Operator #CA-1106022-07
Former 2017 President of the Ohio Plumbing, Heating Cooling Contractors of the Akron/Canton Area
Former 2014 President of the Green Initiative BNI Chapter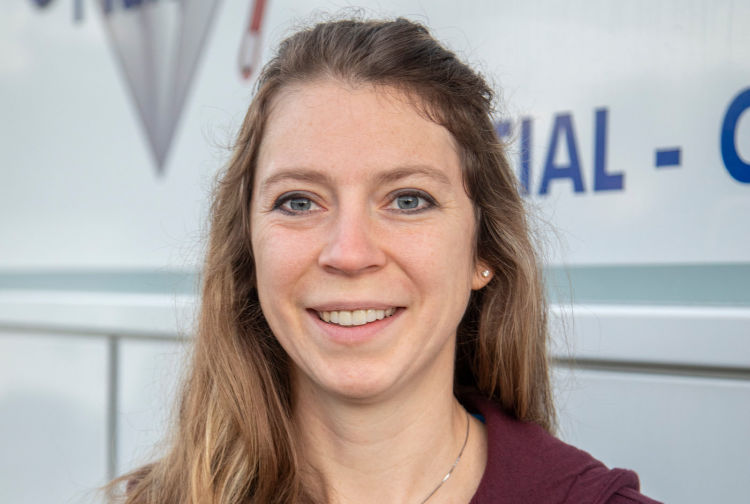 Heather Mantel - Vice President/Office Manager
Heather is Vice President & Office Manager at JEM Plumbing, Inc. and has worked alongside husband Jeremy, since the beginning and launch of JEM in 2013. Heather's first joy is spending time with her husband and boys. She loves camping & boating with the Family as well as sharing the stage with her sisters playing their own brand of Celtic Folk Rock Music. She is an avid musician and loves to sing, play her (sparkly) drum set, Bodhran, Piano or Violin. Heather loves meeting new people, and enjoys talking with customers, getting to know Supply Reps, fellow entrepreneurs and being a part of BNI and the Akron/Canton PHCC (Plumbing, Heating Cooling Contractors, Association).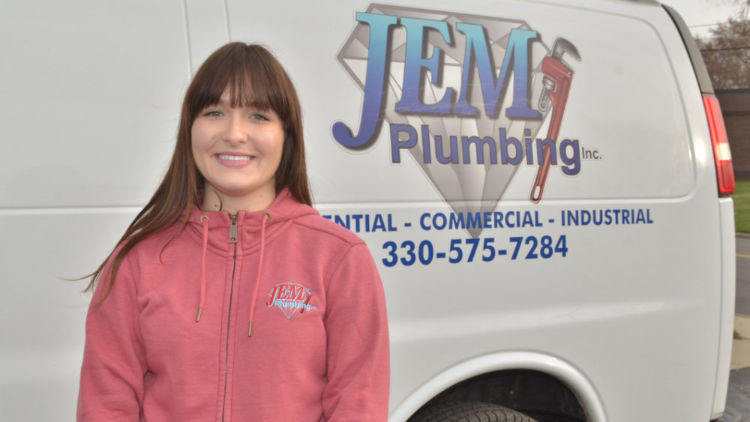 Kortni Agosta - Office Administrator
Kortni is a crucial part the JEM Office & Shop daily Operations and is JEM's longest running Employee. She is also a fulltime student at the University of Akron, pursuing a biology degree. Kortni enjoys being a part of the "out of the ordinary" jobs that come up and is always game to lend a hand, helping out wherever, whenever it's needed. On the weekends, Kortni enjoys hanging out with friends and family.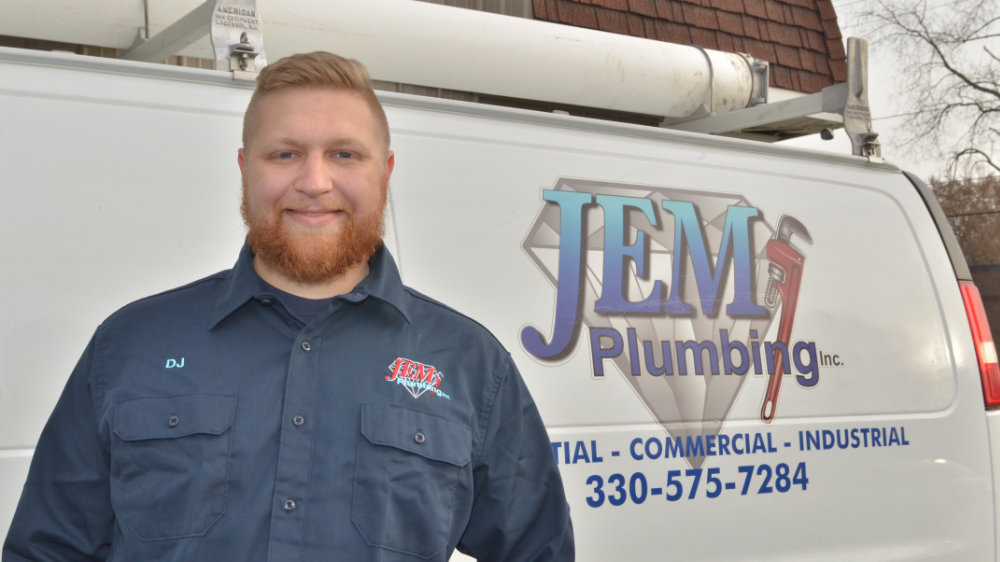 DJ (David) Coblentz - Project/Service Technician
DJ specializes in Gas line installation from Commercial to Residential, underground and above ground. He also fills a needed roll in the JEM Service Schedule. DJ has a degree in English and communications. He is always looking to learn more about the plumbing trade and enjoys the one to one training at JEM. In his free time, DJ loves to watch movies and going hiking with his wife, Halle.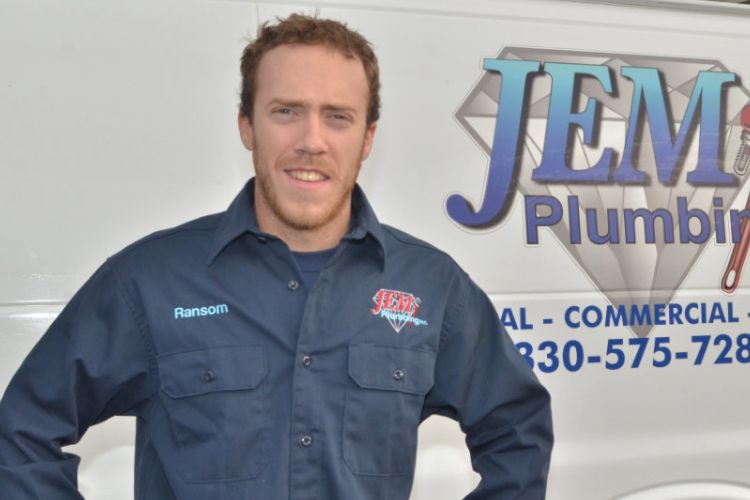 Ransom Justice - Equipment Operator/Project Technician
Ransom enjoys running and operating equipment at JEM and the constant variety of work to be done. In his spare time he loves four wheeling with his brothers / friends and playing volleyball with his wife, Shelby. Ever the fun Uncle, he enjoys horsing around with his little nephews (Heather & Jeremy's boys) at the end of the day, back at the Office & Shop. On the weekends, Ransom enjoys helping others and working on his truck.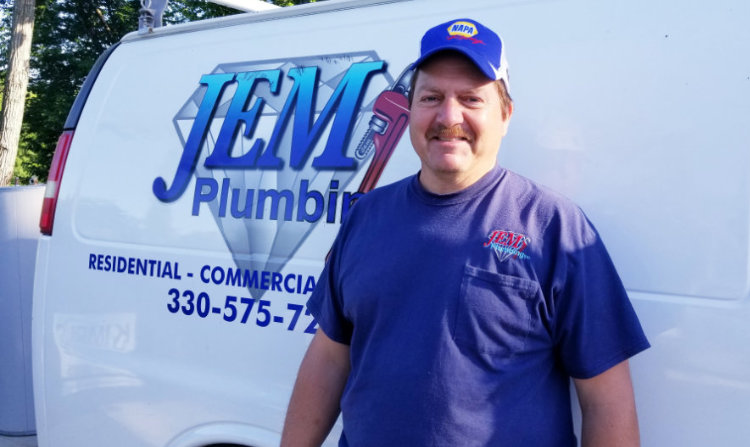 Dave Coblentz: Equipment Operator/Shop Manager
Skid steer or a digger, Dave is the Main Operator at JEM. He has our ditches, drain lines, water lines, you name it lines (dug &) covered! He is also our weather man, with his background in Farming, he always has his pulse on what the weather might be like for our outdoor Jobs. (as much as Ohio lets on!) In his spare time, he enjoys caring for the animals on his Family farm and spending time with his wife Tracy and their 3 grown sons.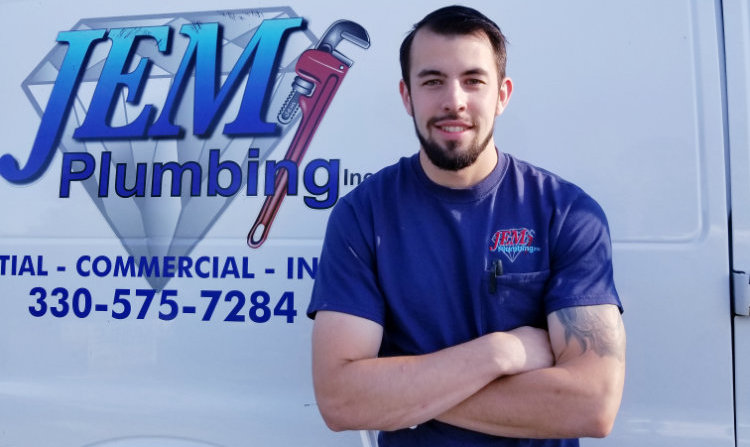 Tyler Lanteigene: Project/Service Technician
Recently out of the Air force, Tyler is enjoying the change of pace and the constant variety of the different types of Plumbing work we do at JEM. In his free time, he likes to go bouldering, working out at the gym and ice skating.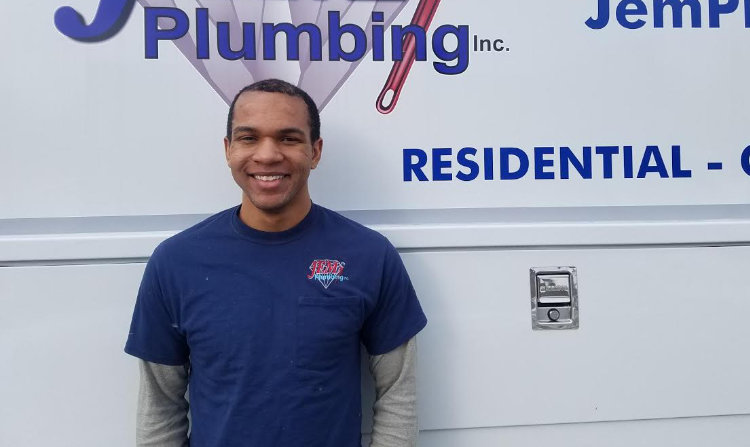 Ryan Kennedy: Project/Service Technician
Ryan and his wife Aubreyelen live in the Akron Area. His Hobbies include reading, writing, hiking and sports. He likes to keep active physically and mentally. Ryan enjoys all the different jobs he experiences at JEM and expanding his increasing knowledge of the Plumbing Trade.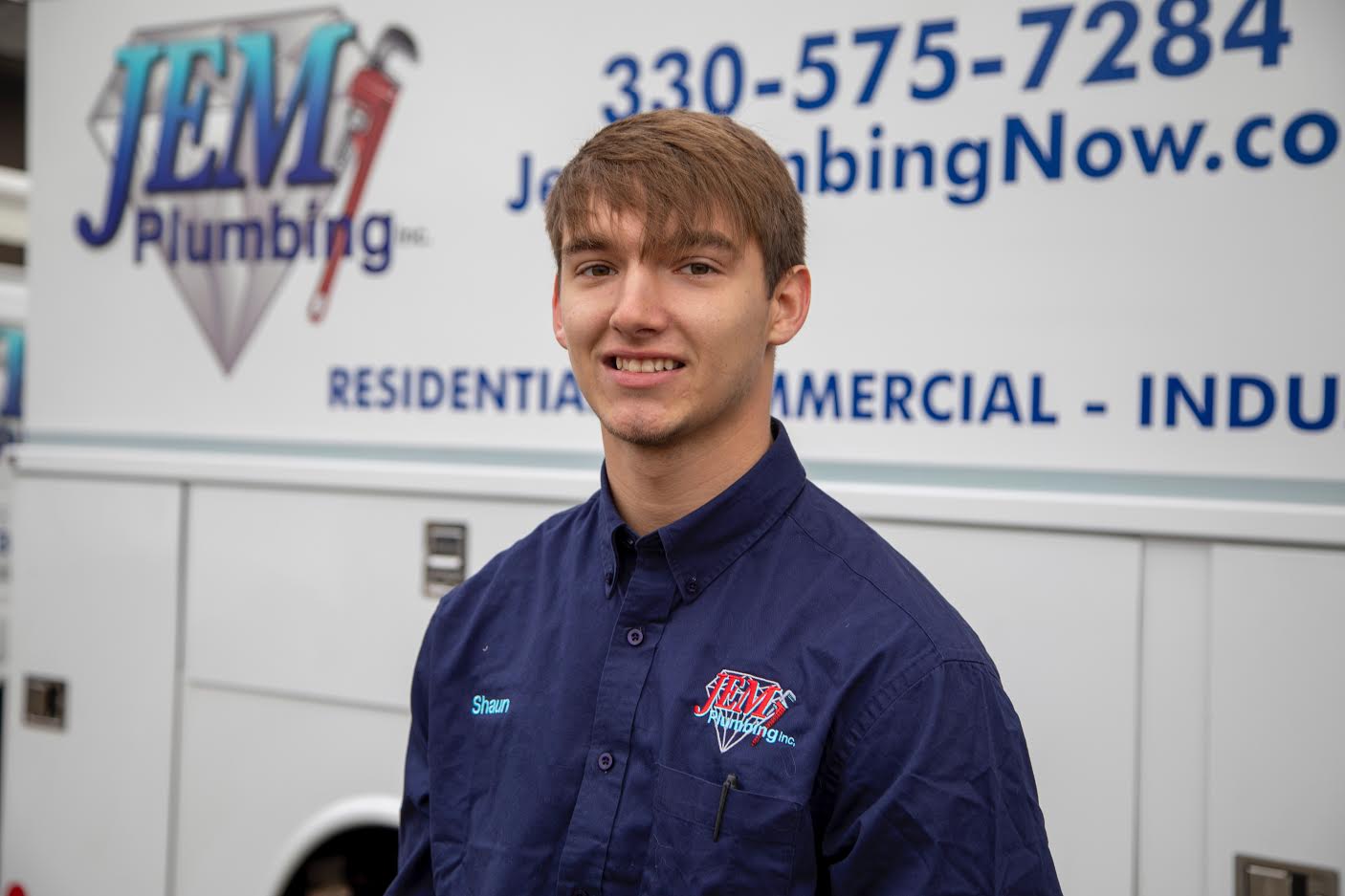 Shaun McMangial: Technician Assistant
Shaun is the newest member of the JEM Plumbing Team and is actively diving into learning the plumbing trade.